Anarquista
From Fleet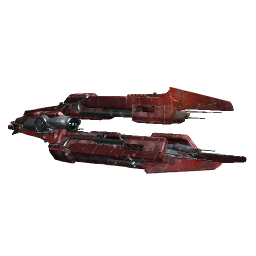 'Well... It's shiny!' - Military official Uban ver Derkson
Used to fight against the invasion of tiddly-wink war of '52, this fighter was anything but an easy target
The great Crypto himself built the first one using an earth car battery and 3020 Chevy Nightride
When this marvel was noticed, the general himself ordered mass production, this beast was able to see 5 months of action.
The Anarquista is more aimed at the well respected, wealthy trader looking for some protection... for a price.
Fighter
7,500,000 Credits
Prerequisites

Distinction: 10
400,000 XP

Stats

Armor: 4500
Hull: 1400

Vitals

Gun Mounts: 2
Turret Mounts: 5
Missile Mounts: 6
Size: 60
Space: 475m3
Mass: 60 / 950 t capacity