Decimator
From Fleet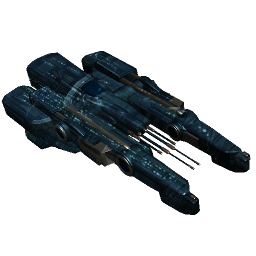 "A Decimator used for good is like... a pigeon on speed." - 'Bill', Guy found on street
Inspired by a family lost to freakish 'accidents,' the Decimator was the brainchild of Nigel Buff. With so many missile slots, the decimator lives up to its name. Unfortunately, with such an angry title, there have been many cases of pilots degrading into destructive fits of anger while chanting long synonyms of 'annhilation.' Fortunately, this is just the minority. On the whole, the current trend is to line the seats with pink fluff and a heart-shaped windscreen to make it known that these guys are blowing stuff up in love... Not in anger. Aww.
On the whole, one of the best early ships for PVP.
Fighter
4,250,000 Credits
Stats

Armor: 4500
Hull: 1800

Vitals

Gun Mounts: 6
Turret Mounts: 2
Missile Mounts: 8
Size: 80
Space: 475 m3
Mass: 220 / 680 t capacity