Excelsior
From Fleet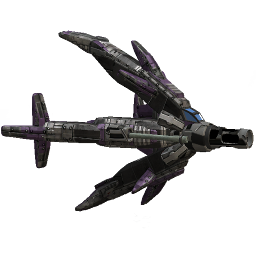 The design of this ship is based on the design of early artificial satellites that used to run on solar power.
After the advance of technology happened, those old satellites were no longer viable, therefore scientists did several experiments on them. One experiment turned out to be extremely succesful, so it was transformed into a galactic ship. It was the "grandpa" of Excelsior.
Another prototype came after one century and it was the fastest ship at that moment. However, it was not a safe ship and over one hundred pilots died during wormhole jumps.
The present Excelsior managed to overcome the safety problems. However, the bad reputation of its predecessors still afffects the image of this ship, which is fast, reliable, comfortable for passengers and can fight monsters like Vorpal Fangs.
Advantages:
---
Five guns!!!
---
Two turrets;
---
High Speed, which is good in combat!
---
Relatively high available mass.
Disadvantages:
---
Extremely expensive (14,000,000 credits)
---
Low volume - 450 m3
---
Fragile in specific points (because of the design)